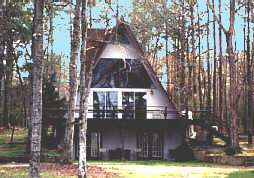 Don't let the name, 'Hard Labor Creek Plantation', fool you. Your total comfort and satisfaction are Ted's goals. The quail hunting and bass fishing will accommodate the experience and physical needs of each and every guest, from the novice to the seasoned outdoors man or woman.
The three bedroom, three bath chalet is first-class. It has a large kitchen, dining room, two sitting rooms and even a recreation room with a pool table. There are also two fireplaces, wet bar, satellite television, telephone and lots of comfort!
The lodge is designed to sleep up to eight guest, making it wonderful for corporate retreats and outdoor vacations. You would be hard pressed to find a quieter, more tranquil setting anywhere.
"Aside from the game and the fishing, Ted offers a beautiful A-Frame on your own private 85 acre lake. Ted has a hands on/ hands off policy. Basically if you are a Hard Labor Creek veteran like my crowd or just want some privacy, Ted will let it be solely your place. If you want him to show you around, he'll be a phone call away. I highly recommend this facility to fisherman, quail hunters, deer hunters, and better yet if you're all three. So when deer season runs out everywhere else, it's not too late...call Ted and come on down to Hard Labor Creek. You'll be glad you did."

Mark Davis, Shakespeare Fishing Tackle