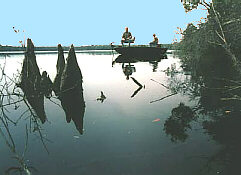 Actually, there's one thing that may be difficult at Hard Labor Creek Plantation - the decision of what to do first…hunt, fish or just 'kick back'.
With a spring-fed lake surrounded by beautiful pine and hardwood right out your back door, that decision could be tough.
This private, pristine 85-acre lake is called 'Owens Pond'. Its shoreline of cypress trees and downed logs, plus open-water structure, offers some of the most enjoyable fishing you'll ever experience. The tranquility offered by Owens Pond will make you want to come back again and again.
The lake, fishing tackle, and our lodge are available to accommodate you and your guests. All you need to bring is your boat!
The lake is full of lunker bass but there are lots of smaller bass and panfish to keep the spin casting and fly rod action fast and furious.


A fisherman's personal story...

"I took a group of friends to Hard Labor again this year. Included was the "other" Mark Davis 2001 B.A.S.S. Angler of the Year, B.A.S.S. Pro Chris Elders, well-known outdoor writer Jeff Samsel, and childhood friend Kevin Newman. We were there to get bass fishing, quail hunting, and deer hunting story material for Jeff as well as have a good time. With not one but two $30,000 bass rigs in tow and three professional fisherman, we quickly got the fishing out of the way and made up a great fish fry with some smaller...like Ted says..."management fish". Really we didn't need the "pros" because it was no great task to catch 30+ bass a piece each of the two afternoons averaging 1 1/2 to 2 pounds."

Mark Davis, Shakespeare Fishing Tackle