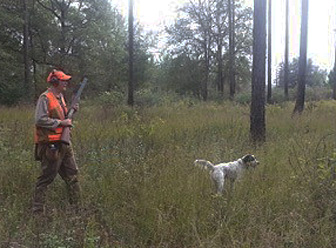 Ted,
We had a great day yesterday on the airstrip. This was Brian's first time shooting quail and he enjoyed it. Had some neat moments with my older setter TK including the longest retrieve I've ever seen to cap off the day. Even got a couple of wild birds. Here's a pic training the puppy Merle.

Leon


Ted,
Nick and I sure enjoyed the half day quail hunt yesterday. The weather was perfect and Jerry and his bird dogs did a great job putting us on several coveys of some fast flying quail. Jerry's dogs were good at finding the singles too. This really brought back some great memories for me when I used to hunt with my father in the 60's and 70's. This was my sons first live bird hunt which he said he thoroughly enjoyed.

This was the first bird hunt for the Benelli SBE II which I was using paired up with Western universal 2- 3/4 in 1- 1/8 oz #8 shells. This was a great combination for bringing down the quail without too much damage to the meat. Also, for those customers you have asking about hearing protection - I used the Ear-Pro EP-5 flanged ear plugs which cuts down 26 dB of shotgun blast but still allows conservation with your guide and hunting party. They worked great and I left them in for the whole hunt.

Thanks to you and your staff for a great time,
Joel & Nick


Ted,
Well, it's (almost) fall in Florida, and we were the first hunt group out at HLC this season. It was a wonderful, if a little warm, time out: great cover, and the best flying plantation birds I've ever seen! We did two unguided hunts, worked 6 dogs, and each had a get-tired time. The birds were better birds than we are hunters, but we got enough in the bag for supper and to take home. Hospitality from host Ted was gracious and friendly, and, best of all, there was a really nice fellow to clean birds after the hunt. That's just no fun, after you're tired, so it was a real treat. We stayed at the lodge, which is spacious and beautifully appointed. Everything is there that I usually forget to bring, so that was a pleasant surprise and shows thought on the part of the host and staff. Great time, highly recommended, and we'll be back. Thanks Ted!

Dave



Ted,
I would like to thank you for a wonderful time all of us had this past weekend at Hard Labor Plantation. The atmosphere was outstanding and the lodge was excellent. All of the people that represented your establishment were professionals. I and many others are looking forward to visiting you again in the future. Please tell all of the men thank you from Jaguar Technologies for a first class outing that we will remember for a long time.

Thank you again,
Tim Schreiber
Jaguar Technologies, Inc.


Dear Ted,

I wanted to take a moment to write you a somewhat belated thank you note for the wonderful time we had on your place in February.

Your property is truly world-class. The property itself is magnificent, and your love for it can be clearly seen as you drive about the place. The A-frame cabin you offered for accommodations is beautiful, and the most sumptuously appointed "hunting lodge" I've ever stayed in.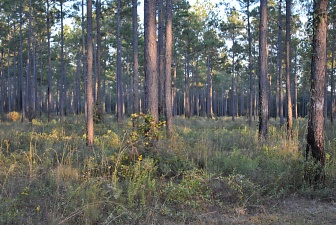 The woods you will be hunting in at Hard Labor
Creek Hunting Preserve